BARBARA RETURNS TO BIRDLAND THEATER!
Wednesday, February 05, 2020, 07:00pm - 08:00pm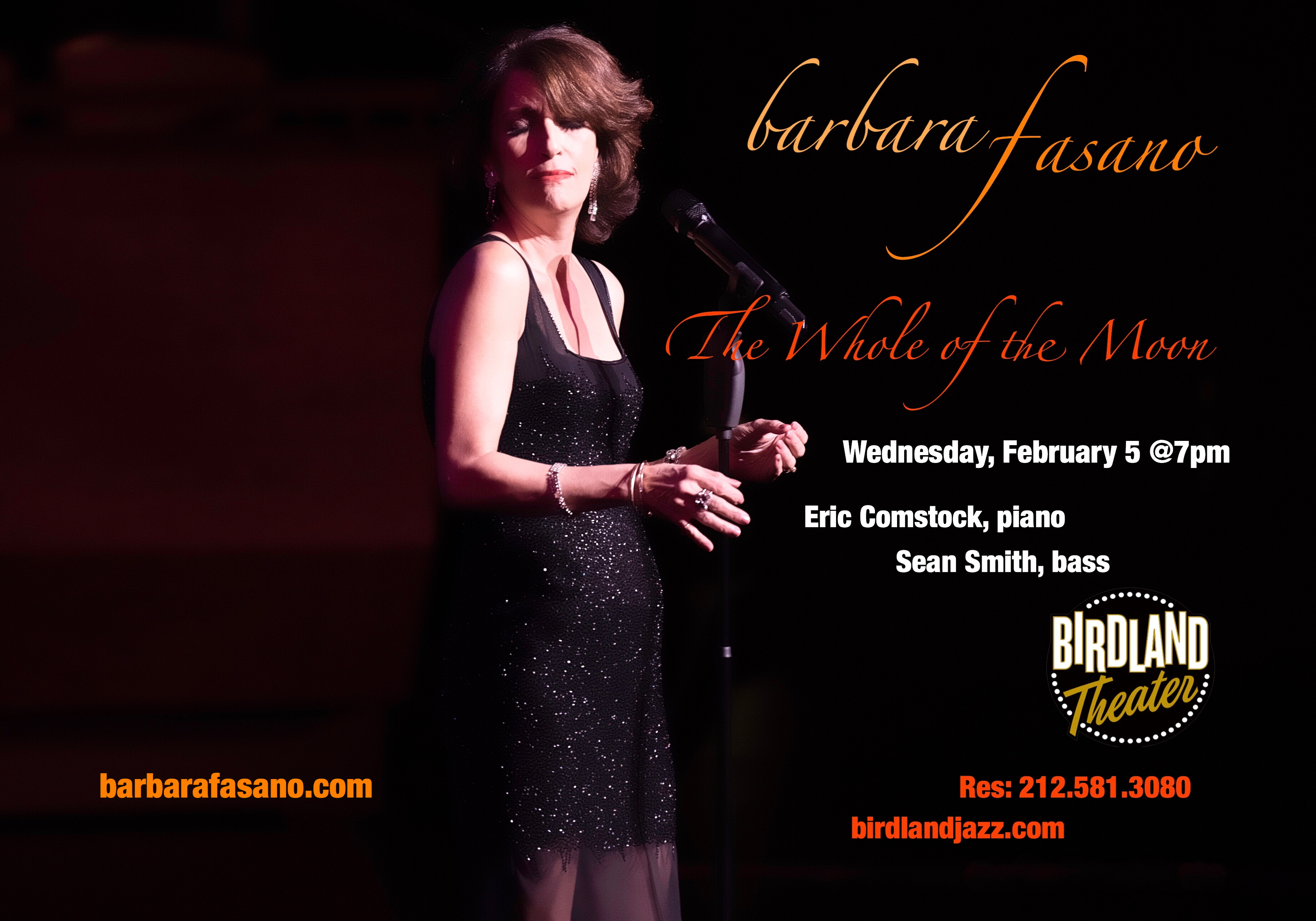 photo: Helane Blumfield

I'M SO HAPPY TO BE RETURNING
TO THE BEAUTIFUL BIRDLAND THEATER

ONE NIGHT ONLY!
ONE SET ONLY!
WEDNESDAY, FEBRUARY 5 @ 7PM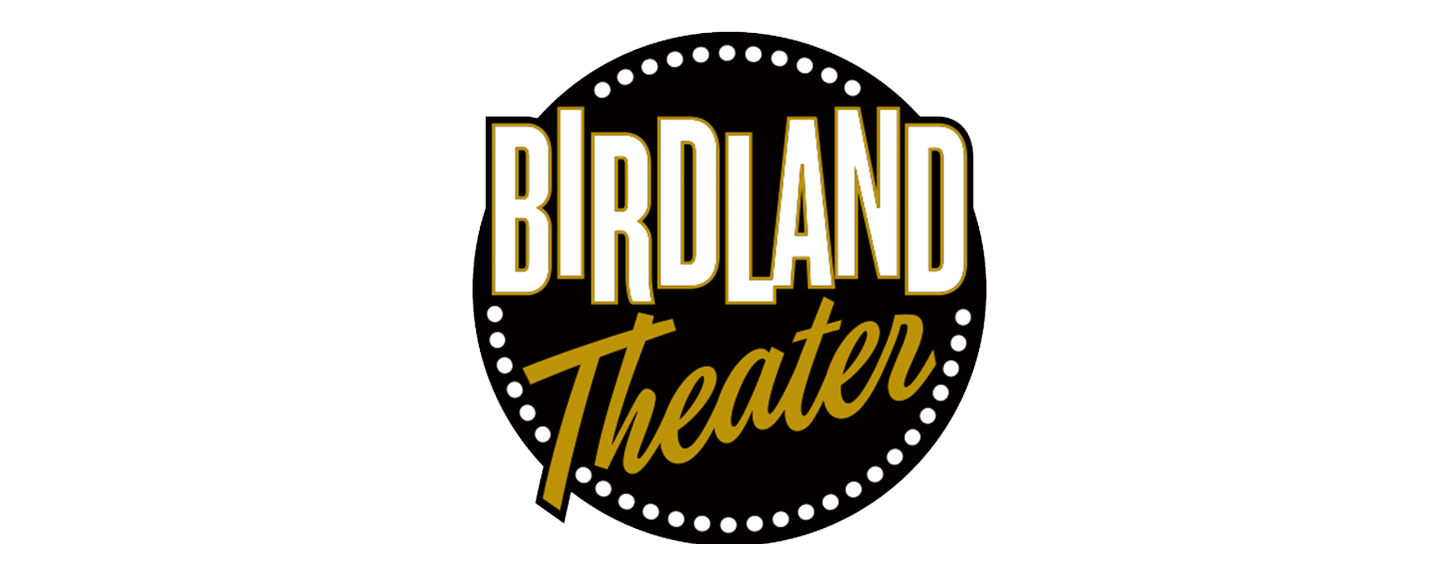 315 WEST 44TH STREET, NYC
RESERVATIONS ~ 212.581.3080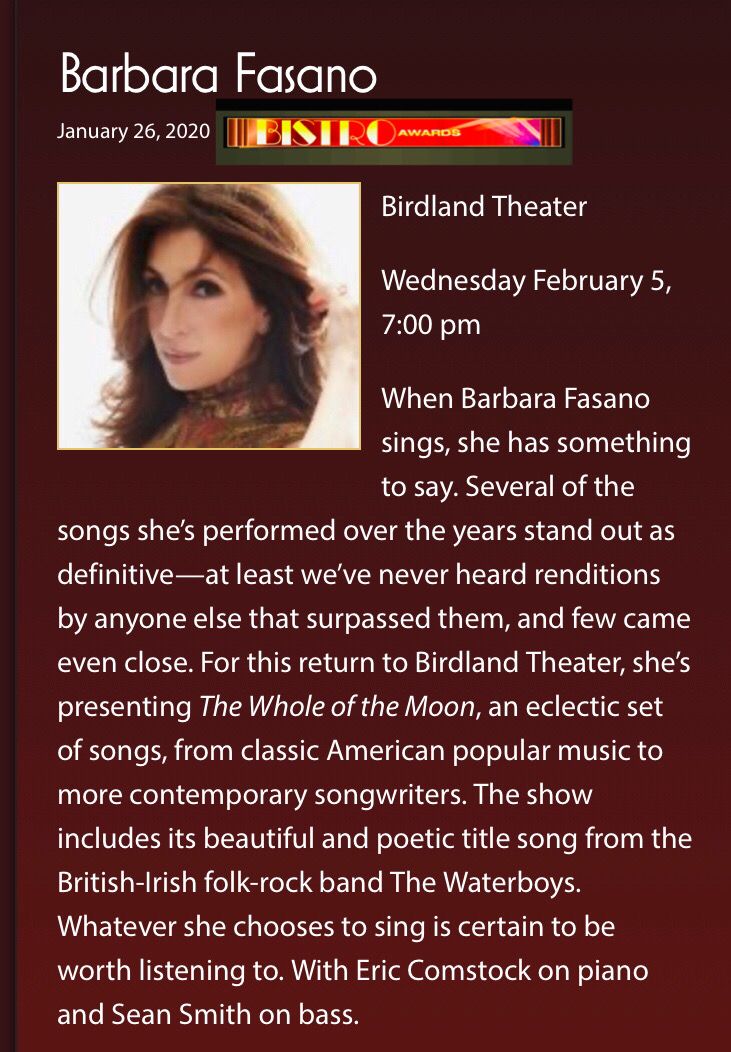 "A lyrically sensitive interpreter with a special affinity for Joni Mitchell"
~ The New York Times

"A charismatic stylist" ~ The Wall Street Journal

"A gorgeous, soulful singer who has an actor's intensity
in whatever she sings"
~ The New York Post

"Chanteuse extraordinaire Barbara Fasano electrifies
pop and jazz with flavors of steamy romance
and snaps of wit. A captivating performer ...
delivering songs with an actor's depth and emotion
and well-trained vocal strength.
Her natural charisma,
sharp acting and vocal talent
showed her as a sensitive interpreter of lyrics
punched up by a formidable jazz sense.
Witty and passionate,
one artist who understands what
the songs are saying, how they should be sung
and has fun sharing it all with us."
~ Elizabeth Ahlfors, Cabaret Scenes / Citi View


BARBARA FASANO
"THE WHOLE OF THE MOON"
WEDNESDAY, FEBRUARY 5 @ 7pm
with ERIC COMSTOCK, PIANO
and SEAN SMITH, BASS


Acclaimed pop/jazz vocalist Barbara Fasano comes home to
Birdland Theater with a set of eclectic songs ranging from
Harold Arlen to Joni Mitchell, from Harry Warren to Bruce Springsteen.

Joining Barbara will be celebrated pianist
Eric Comstock ("cabaret caviar" -- The New York Times)
and eminent bassist/composer Sean Smith.

A storyteller in song in the tradition of Carmen McRae,
Sylvia Syms and Julie Wilson, Ms. Fasano explores
the complexities of love and the circles we all swirl within,
singing "wise, literate songs about life in all its confusing wonder,"
as author James Gavin writes. "She seems incapable
of singing an unintelligent or unmusical phrase."

Winner of multiple MAC, Bistro and NY Nightlife Awards,
her last two CDs, "Busy Being Free" and "Written In The Stars,"
were praised in publications as diverse as Playbill and JazzTimes
and both won MAC Awards for Record of the Year.

Called "artistic, swinging and superbly entertaining"
by revered jazz critic Ira Gitler, Ms. Fasano
has headlined at Carnegie Hall, Lincoln Center,
and concert halls and jazz festivals internationally.