BARBARA FASANO TRIO RETURNS JULY 30 TO MUSIC MOUNTAIN!
Saturday, July 30, 2022, 07:00pm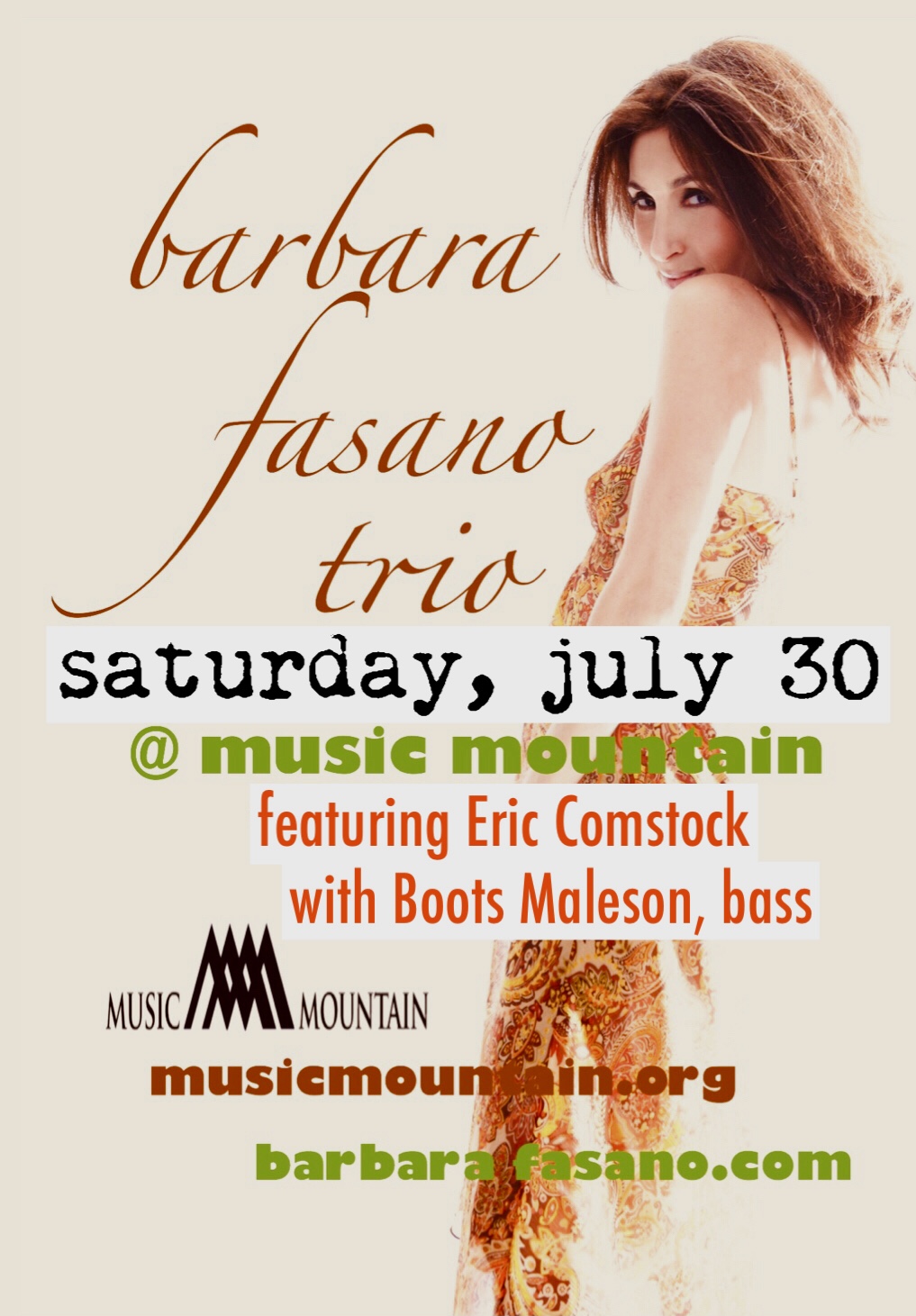 JOIN US JULY 30, 2022 @ 7pm!

THE BARBARA FASANO TRIO
"IN THE STILL OF THE NIGHT"
FEATURING ERIC COMSTOCK
WITH BOOTS MALESON, BASS

SATURDAY, JULY 30, 2022 @ 7pm
@ MUSIC MOUNTAIN

And ... you can join in various ways!
In Gordon Hall, or on the pretty lawn.

BOX OFFICE: 860-824-7126
ONLINE GO HERE

"A charismatic stylist" ~ The Wall Street Journal

"A gorgeous, soulful singer who has
an actor's intensity in whatever she sings" ~ The New York Post

Award-winning pop/jazz vocalist Barbara Fasano returns
to Music Mountain with her signature mashup of pop and jazz standards
that unite the generations. A Resident Artist at New York's
legendary Birdland Jazz Club, she's been praised as
"exhilarating … a lyrically sensitive interpreter"
by The New York Times. Her latest CD BUSY BEING FREE
was called "intelligent, lush and sexy" by Huffington Post.
Drawing from eclectic influences – Sinatra and Peggy Lee to singer/songwriters
like Joni Mitchell -- Barbara is a spellbinding storyteller in song, reinventing the music
with her uniquely expressive interpretations, and placing it squarely in our time.
Her performances have taken her from Carnegie Hall and Lincoln Center
to London's Pizza Express,and nightclubs and music festivals across the country.
Joining Barbara is her frequent collaborator, acclaimed pianist/singer Eric Comstock.
Together these married musical partners make the American Songbook come alive,
and audiences feel they've been to a terrific party where the songs and the stories
are equally great. Rounding out the trio is eminent bassist Boots Maleson.
Join Barbara's trio at Gordon Hall for a soulful, swinging summer soirée!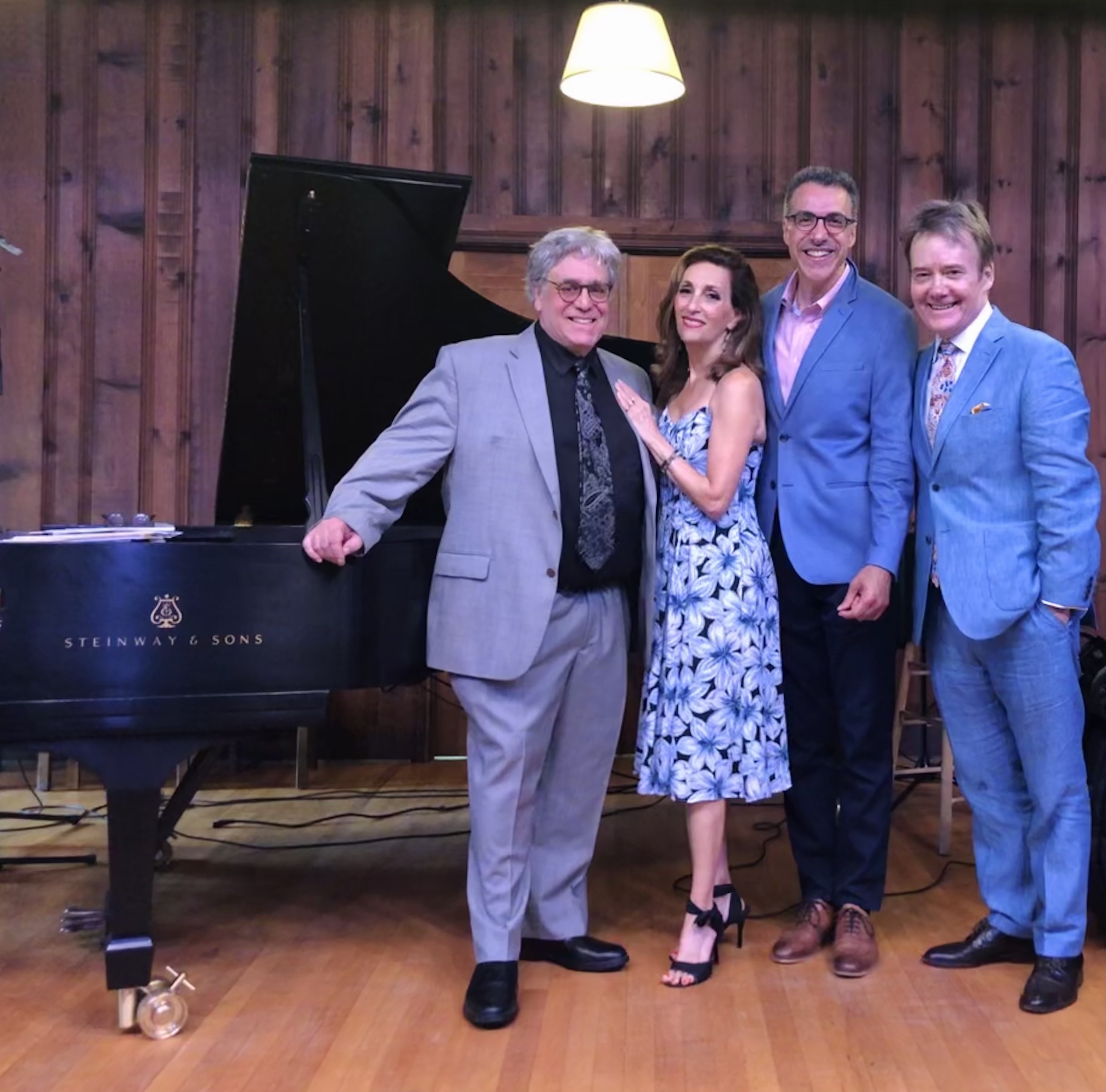 with Artistic Director, Oskar Espina Ruiz

"In her new show, Barbara Fasano
showed why she continues to be
in the top tier of today's jazz vocalists."
~ Ron Forman, Cabaret Scenes Magazine

"You won't find a classier trio, Eric Comstock on piano,
Boots Maleson on bass, and the star - a svelte songbird, Barbara Fasano,
dressed in casual chic for a hot summer evening of captivating songs.
With evocative music underlining jazz, swing and poignancy ...
a highlight for me showed Fasano's inspiration
by Joni Mitchell, never so potent.
Fasano's songs mix and mingle - songs of passion and laughs,
always wrapped around a connecting core of truth.
You can't go wrong sharing an evening with Barbara Fasano."
~ Elizabeth Ahlfors, Theater Pizzazz

A storyteller in song in the tradition of Carmen McRae, Sylvia Syms
and Julie Wilson, Barbara explores the complexities of love
and the circles we all swirl within, singing
"wise, literate songs about life in all its confusing wonder,"
as author James Gavin writes.
"She seems incapable of singing an unintelligent or unmusical phrase."

Winner of 7 MAC Awards, 3 Bistro Awards, the NY Nightlife Award,
and the 2021 Mabel Mercer Foundation's Donald F. Smith award,
her last two CDs, "Busy Being Free" and "Written In The Stars,"
were praised in publications as diverse as Playbill and JazzTimes,
and both won MAC Awards for Record of the Year.

Called "artistic, swinging and superbly entertaining"
by revered jazz critic Ira Gitler, Barbara has headlined
at Carnegie Hall, Lincoln Center,
and concert halls and jazz festivals internationally.

Critic and author Will Friedwald raves,
"Barbara puts Joni Mitchell and Jimmy Webb on a level playing field
with Jerome Kern and Irving Berlin and makes them all sound
equally terrific. Though she draws on traditions
of cabaret, jazz, and singer-songwriter pop/folk,
the result sounds less like a multi-generic mashup
than a cohesive whole."





225 Music Mountain Road
Falls Village, CT
(860) 824-7126


I was so excited for my Music Mountain debut in 2019,
I made a little video about how a NYC singer
prepares for a concert in the country.
I've answered a few of your FAQ's.
And the answers may surprise you ...